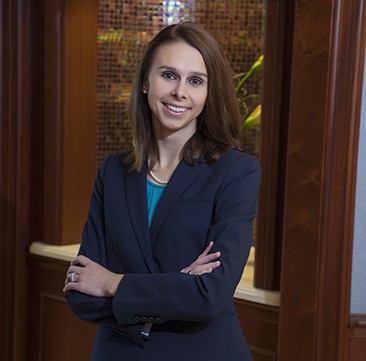 Kathleen L. DiSanto
Shareholder
Board Certified in Business Bankruptcy Law
1801 North Highland Ave
Tampa, Florida 33602
T: 813.204.6409
F: 813.223.9620
Kathleen offers her clients a unique approach to commercial dispute resolution. While Kathleen's practice primarily focuses on bankruptcy and insolvency matters, Kathleen is also an experienced litigator in state and federal court throughout the state of Florida. The synergy between her bankruptcy and litigation practice is an asset to her clients and on any litigation team, as Kathleen brings a unique perspective to business disputes.
During law school, Kathleen completed a judicial internship with the Honorable Alexander L. Paskay. Kathleen began her career as the first law clerk to the Honorable Caryl E. Delano, Chief Judge of the United States Bankruptcy Court for the Middle District of Florida. Her judicial clerkship provided a solid foundation for her career. Prior to joining Bush Ross, Kathleen practiced at boutique bankruptcy firm in Tampa, Florida.
Kathleen is committed to helping her clients find business solutions to their problems, whether through the bankruptcy process or litigation. She is an excellent communicator, with her clients and opposing counsel alike, and Kathleen prides herself on being highly responsive and accessible to her clients. Kathleen regularly represents debtors and assists them in navigating the complexity of business bankruptcies. She has helped more than thirty chapter 11 debtors successfully reorganize, including many closely-held family businesses and individuals. Kathleen is also experienced in representing creditors and trustees in the bankruptcy process and has specialized expertise in defending trustees on Barton doctrine issues.
Kathleen has been Board Certified in Business Bankruptcy law since 2014 and has held an AV-Rating from Martindale-Hubbell since 2015. Kathleen was also the youngest president of the Tampa Bay Bankruptcy Bar Association.
Kathleen's representative experience includes the following:
Debtor Representation
Confirmed one of the first subchapter V cases in the United States Bankruptcy Court for the Middle District of Florida, Tampa Division
Assisted one of the last dairy farms in Southwestern Florida in successfully reorganizing under chapter 12
Assisted a travel industry technology provider in successfully reorganizing under subchapter V during the COVID-19 pandemic
Successfully reorganized national third-party logistics provider in the trucking industry
Served as lead debtor's counsel in several mid-size chapter 11 cases, including reorganization of an apartment complex and a family-owned appliance business
Represented more than fifteen individuals in complex chapter 11 cases, with a 100% confirmation rate
Creditor and Trustee Representation and Bankruptcy Litigation Matters
Represented a property owner in chapter 7 bankruptcy cases of serial filers and obtained an order dismissing a case as a bad faith filing with prejudice and a filing bar
Represented multiple financial institutions as secured creditors in multiple chapter 11 cases
Regularly represents community associations as creditors in chapter 7 and 13 bankruptcies
Assisted post-confirmation liquidating trustee in prosecuting more than fifty avoidance actions
Represented both plaintiffs and defendants in dischargeability litigation
State Court Litigation
Member of the trial team who defeated unit owners asserting claims against a condominium association in Sarasota County, Florida
Successfully defended chapter 7 trustee's accounting firm in litigation emanating from Delaware bankruptcy case
Routinely represents financial institutions in commercial foreclosure actions across the state
Professional & Community Affiliations
Professional Involvement
Tampa Bay Bankruptcy Bar Association

Past President, 2020-2021
Past Board of Directors

American Bankruptcy Institute

Contributing Editor, ABI Journal

Hillsborough County Bar Association
IWIRC
Community Involvement
Region 2 Finance Supervisor, Gamma Phi Beta Sorority
Past finance advisor for multiple Gamma Phi Beta chapters for more than ten years
Lector, St. Stephen Catholic Church
Honors & Recognitions
AV Preeminent Peer Review Rated by Martindale-Hubbell
Board Certified in Business Bankruptcy Law by the American Board of Certification
Florida Super Lawyers, Rising Star (2013-2022)
Florida Trend Legal Elite, Up & Comer (2012, 2017, 2018)
Recognized in Best Lawyers in America® since 2020
• Bankruptcy and Creditor Debtor Rights /Insolvency and Reorganization Law
• Commercial Litigation
• Litigation - Bankrupcty
Tampa Connection, Class of 2019
Articles and Presentations
When Less is Not More: Sufficient Identification of Collateral in Financing Statements, ABI Journal (May 2020).
Third Circuit Joins Other Circuits in Holding WARN Act Exception Standard is "Probable," Not "Possible", Unsecured Trade Creditors Committee Newsletter (October 2017).
When Is a Claim in "Bona Fide Dispute" under § 303(b)?, ABI Journal (October 2016).
Section 1111(b) Elections: Does "Inconsequential" Mean "None," and Are Some Co-Equal Liens More Equal than Others?, ABI Journal (May 2016).
Trust or Debtor: You Decide, ABI Journal (December 2013).
How Efficient Is Your Market When to Apply the Till Rate in Chapter 11 Cases, ABI Journal (June 2013).
Standards of Value in Dirt-for-Debt Chapter 11s: Don't Make a Rash Decision, ABI Journal (April 2012).
How Disposable Is Your Individual Chapter 11 Debtor's Income, ABI Journal (October 2011).
Application of Absolute Priority Rule and New Value Exception in Individual Chapter 11s, ABI Journal (July/August 2011).
Make Yourself Necessary: How to Get Paid as Debtor's Counsel in Individual Chapter 11s, ABI Journal (June 2011).
Clarifying the Florida Personal Property Exemption Statute: Was the "Right" Question Certified to the Florida Supreme Court?, The Cramdown (Spring 2010).
Florida Personal Property Exemption Statute: Why Courts Should Agree to Disagree over Its Interpretation, The Cramdown (Winter 2008).
Down the Rabbit Hole: An Adventure in the Wonderland of Stored-Value Card Regulation, Texas Bar Journal of Consumer and Commercial Law (Fall 2008).
Co-Presenter, Bankruptcy Basics for Accountants, FICPA, Gulf Coast Chapter (November 2011).
Guest Lecturer, Documents of the Deal course, Stetson University College of Law (April 2016, February 2017, March 2018, April 2020).
Panelist, Involuntary Petitions – Issues to Consider Before Pulling the Trigger, ABI's Unsecured Trade Creditors' Committee (February 2017).
Co-Presenter, A Whole New World: What Happens After the Defendant You Have Been Chasing for Years Files Bankruptcy?, Paralegal Association of Florida (June 2017).
Presenter, Federal Court Practice Seminar – Motions Practice, Tampa Bay Chapter of the Federal Bar Association Young Lawyers Division (July 2017).
Guest Lecturer, University of Florida Levin College of Law, Advanced Bankruptcy Seminar, Involuntary Bankruptcies – One Petition to Rule Them All (April 2018, March 2019, February 2020).
Guest Lecturer, Stetson University College of Law, Advanced Bankruptcy Seminar, Involuntary Bankruptcies – One Petition to Rule Them All (March 2019, February 2020, April 2021).
Co-Presenter, Close Encounters with the Fourth Kind: Navigating Bankruptcy Basics, Florida Association of County Attorneys Annual Meeting (June 2019).
Panelist, Bankruptcy Practice is Constantly Changing, Alexander L. Paskay Memorial Bankruptcy Seminar (January 2020).
Moderator, Tampa Bay Bankruptcy Bar Association, Between Three Bankruptcy Attorneys CLE Presentation (May 2021).
Personal
Ms. DiSanto was born and raised in Northern Virginia.
News
September 15, 2021

August 23, 2020

June 8, 2020

August 16, 2019

May 30, 2019

June 27, 2018

June 18, 2018

February 7, 2018
Practice Groups
Education
Stetson University College of Law, J.D., 2008
Moot Court Board Member, 2007 Willem C. Vis International Commercial Arbitration Moot team and 2008 Conrad B. Duberstein Bankruptcy Moot team
2008 Judge Alexander Paskay Bankruptcy Award Winner
2008 William F. Blews Pro Bono Service Award Winner
Received 4.0 in Contracts I, Property I, Commercial Transactions, and Environmental Law
University of Virginia, B.S., 2005
Bar and Court Admissions
Florida
United States District Court, Middle, Northern, and Southern Districts of Florida
United States Court of Appeals of the Eleventh Circuit